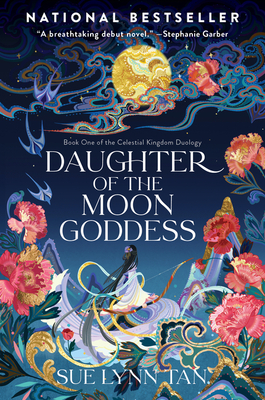 Daughter of the Moon Goddess: A Fantasy Romance Novel (Celestial Kingdom #1)
Publication Date:
October 11th, 2022
Publisher:
Harper Voyager
The Book Tavern
2 on hand, as of Dec 7 11:18pm
(SciFi/Fantasy)
On Our Shelves Now
Glimmering with lavish imagery and ethereal world-building, Daughter of the Moon Goddess is a hero's journey where love is essential to coming of age. A remarkable debut filled with monsters, magic, power, and my favorite — dragons.
February 2022 Indie Next List
This jam-packed debut was a whimsical and stunning retelling of the myth of Chang'e, the moon goddess. Tan's writing is absolutely beautiful. If you're a fan of folklore and mythology, this duology is not one to miss!
Fall 2022 Indie Next List for Reading Groups
Description
The acclaimed national and international bestseller
"Epic, romantic, and enthralling from start to finish."—Stephanie Garber, #1 New York Times bestselling author of the Caraval series
"An all-consuming work of literary fantasy that is breathtaking both for its beauty and its suspense."—BookPage, starred review
A captivating and romantic debut epic fantasy inspired by the legend of the Chinese moon goddess, Chang'e, in which a young woman's quest to free her mother pits her against the most powerful immortal in the realm.
Growing up on the moon, Xingyin is accustomed to solitude, unaware that she is being hidden from the feared Celestial Emperor who exiled her mother for stealing his elixir of immortality. But when Xingyin's magic flares and her existence is discovered, she is forced to flee her home, leaving her mother behind.
Alone, powerless, and afraid, she makes her way to the Celestial Kingdom, a land of wonder and secrets. Disguising her identity, she seizes an opportunity to learn alongside the emperor's son, mastering archery and magic, even as passion flames between her and the prince.
To save her mother, Xingyin embarks on a perilous quest, confronting legendary creatures and vicious enemies. But when treachery looms and forbidden magic threatens the kingdom, she must challenge the ruthless Celestial Emperor for her dream—striking a dangerous bargain in which she is torn between losing all she loves or plunging the realm into chaos.
Daughter of the Moon Goddess begins an enchanting duology which weaves ancient Chinese mythology into a sweeping adventure of immortals and magic, of loss and sacrifice—where love vies with honor, dreams are fraught with betrayal, and hope emerges triumphant.
Praise for Daughter of the Moon Goddess: A Fantasy Romance Novel (Celestial Kingdom #1)
"Tan's remarkable debut and duology launch transports readers into a stunning world...The result is a riveting page-turner that will leave fantasy lovers satisfied and eager for more" — Publishers Weekly (starred review)
"An exquisitely detailed fantasy with a strong, vulnerable protagonist. The intimate prose makes Tan's wonderful debut an immersive experience; share with fans of Shelley Parker-Chan and Katherine Arden." — Library Journal (starred review), Debut of the Month 
"Filled with intricate world building, heartbreaking romance and mind-bending intrigue. Tan's story is mythic in its scope yet personal in its execution . . . The result is an all-consuming work of literary fantasy that is breathtaking both for its beauty and its suspense." — BookPage (starred review)
"This vivid, unputdownable debut effortlessly whisks us into the celestial realms of Chinese high fantasy. Tan magnificently conjures the romantic yet dangerous dazzle of this immortal world, but never loses track of the shining human heart of her tale. A captivating treat for lovers of Chinese fantasy dramas and newcomers alike."
— Shelley Parker-Chan, author of She Who Became the Sun
"Sue Lynn Tan has written a breathtaking debut novel that will sweep readers away to the moon and back. I can't remember the last time a book surprised and delighted me as much as this one. Epic, romantic, and enthralling from start to finish. I love this book." — Stephanie Garber, #1 NYT bestselling author of the Caraval series
"A lush, dreamy gem of a novel." — Shannon Chakraborty, bestselling author of The City of Brass
"Tan sweeps the reader away on an epic and romantic adventure, rendered in lovely prose and driven by a strong-willed protagonist, whose quest for ?justice is as gripping as it is exquisite." — Samantha Shannon, bestselling author of The Priory of the Orange Tree
"A gripping adventure inspired by the legend of Chang'e, Daughter of the Moon Goddess explores how far one woman will go for the sake of family, loyalty, and love. Prepare to be swept off your feet by this absolutely magical tale."
— Genevieve Gornichec, author of The Witch's Heart
"A sparkling debut, epic but intimate, about love and sacrifice and hope in the face of despair. At its center is a protagonist who is flawed but full of heart—I dare you not to be entranced by this magical book."  — Ava Reid, author of The Wolf and the Woodsman
"With all the beauty and heartbreak of a Chinese fantasy drama, Daughter of the Moon Goddess is an enchanting joy from start to finish."  
— Tasha Suri, author of The Jasmine Throne
"An absolutely delightful and enchanting read! Daughter of the Moon Goddess takes a beloved Chinese legend and reimagines it into a gorgeously-spun romantic fantasy. I can't wait for the sequel!" — Elizabeth Lim, New York Times bestselling author of Spin the Dawn and So This is Love 
"A stirring romantic fantasy set in a richly realised world inspired by Chinese mythology. I loved it!" — Zen Cho, Bestselling author of Black Water Sister  
"Strikingly evocative, tense, and heartfelt, Daughter of the Moon Goddess is a difficult book to put down. It floats you into the Celestial Kingdom, introduces you to monsters both literal and figurative, and leaves you dreaming of dragons."
— Andrea Stewart, author of The Bone Shard Daughter
"The prose is lovely and fluid, lush descriptions of magic and immortal life buoying the narrative."
— Kirkus Reviews
"Tan's luminous fantasy debut ... is a refreshing retelling of a classic Chinese folktale." — Booklist