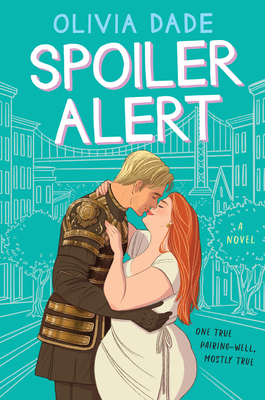 Spoiler Alert: A Novel
Publication Date:
October 6th, 2020
The Book Tavern
1 on hand, as of Dec 9 11:18pm
(Fiction)
On Our Shelves Now
Description
National Bestseller
Olivia Dade bursts onto the scene in this delightfully fun romantic comedy set in the world of fanfiction, in which a devoted fan goes on an unexpected date with her celebrity crush, who's secretly posting fanfiction of his own. 
Marcus Caster-Rupp has a secret. The world may know him as Aeneas, star of the biggest show on television, but fanfiction readers call him something else: Book!AeneasWouldNever. Marcus gets out his frustrations with the show through anonymous stories about the internet's favorite couple, Aeneas and Lavinia. But if anyone discovered his online persona, he'd be finished in Hollywood.
April Whittier has secrets of her own. A hardcore Lavinia fan, she's long hidden her fanfic and cosplay hobbies from her "real life"—but not anymore. When she dares to post her latest costume creation on Twitter, her plus-size take goes viral. And when Marcus asks her out to spite her internet critics, truth officially becomes stranger than fanfiction.
On their date, Marcus quickly realizes he wants more from April than a one-time publicity stunt. But when he discovers she's Unapologetic Lavinia Stan, his closest fandom friend, he has one more huge secret to keep from her.
With love and Marcus's career on the line, can the two of them stop hiding once and for all, or will a match made in fandom end up prematurely cancelled?
Praise for Spoiler Alert: A Novel
"…Dade delivers and then some. This book frolics through fields of fannish allusion and metatext… It takes a skillful writer to juggle so many elements, yet the emotional through-line shines clear and strong at every point." — New York Times Book Review
"Spoiler Alert is a delight. April and Marcus will melt your heart." — USA Today bestselling author Jenny Holiday
"Spoiler Alert is a gentle, funny, and sexy romance that captivated me from the first page and kept me enthralled to the very (happy) end. I adored these characters and every moment of their journey to love. Olivia Dade has crafted an unforgettable story, one that's earned an immediate spot on my comfort-reads shelf." — Mia Sosa, USA Today bestselling author of The Worst Best Man
"It's a path of self-discovery, healing and growth, punctuated by scorching chemistry, whip-smart dialogue and sidesplitting humor." — Washington Post
"[A] clever, creative story...Dade handles both the fun and toxic dynamics of fandom and social media with insight and compassion. Given equal weight are Marcus and April's difficult family histories, as both work through the damage inflicted by parents who judged them to be "flawed." The result is nuanced, unflinching, and deeply romantic. Dade's fans and new readers alike will fall in love." — Publishers Weekly (starred review)
"With considerable empathy and a generous helping of snarky wit, Dade invites readers into the fascinating world of fan fiction while at the same time deftly addressing some serious topics—body image issues and dyslexia—within the context of a scorchingly sexy contemporary romance... a force to reckon with in the romance genre." — Booklist (starred review)
"Even those new to online fanfiction will find this a charming and engrossing read. Issues of body positivity, dyslexia, and found families are among the topics addressed with sensitivity and realism. The between-chapter segments of fanfic server chats, fanfic synopsis, and truly horrible screenplays add to the fun." — Library Journal (starred review)
"Indie publishing favorite Olivia Dade's Avon debut, Spoiler Alert, is a funny and poignant triumph that defies expectation... Dade has gifted readers with a thoughtful, swoonworthy and emotionally satisfying contemporary romance that has the added benefit of a realistic, multilayered and relatable portrayal of the digital world. If you're into fan culture and practices, it will be an even greater pleasure. Loyal Olivia Dade fans and new readers alike will love it." — BookPage (starred review)
"I was engrossed from page one of Spoiler Alert until the very happy, sigh-worthy ending. Olivia Dade is consistently one of my favorite authors. Her writing is warm and witty, frequently funny and often achingly poignant." — Lucy Parker, author of Act Like It
"As funny as it is sexy (and boy is it sexy), Spoiler Alert is a love letter to fandom in all its many forms, and was an absolute joy from the first page to the last. Reading it felt like a hug to the heart from someone who wants you to know that you are perfect and deserve to be loved exactly as you are."
— Jen DeLuca, author of Well Met
"Olivia Dade perfectly captures fandom, love, and acceptance in this incredible, delightful novel. I loved every page!" — Jessie Mihalik, author of Polaris Rising
"The journey to self-acceptance is never easy, and Dade doesn't shy away from that, but she makes it just as beautiful and gentle as the love that blooms between Marcus and April…Geek out with this romantic homage to fan culture." — Kirkus Reviews
"Dade's book is a sparkling jolt of fangirling, body-positive swoons...." — Entertainment Weekly
"Sweet, steamy, and every fanfic writer's dream. This romance is such a fun take on a fan/celebrity relationship with all sorts of body positivity." — Book Riot
"This romantic comedy is about love, secrets and stardom — and is sure to sweep you off your feet." — CNN.com