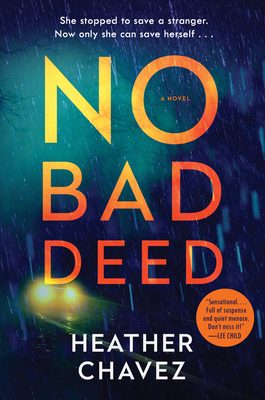 No Bad Deed: A Novel
Publication Date:
February 16th, 2021
Publisher:
William Morrow Paperbacks
The Book Tavern
1 on hand, as of Sep 25 11:17pm
(Fiction)
On Our Shelves Now
Description
"A twisty, jet-fueled thriller… Don't miss it!" – Lisa Gardner
Packed with the electrifying pacing and pulse-pounding suspense of Harlan Coben and Lisa Gardner, a thrilling debut about a mother desperate to find the connections between her missing husband and a deadly stalker who knows too much about her own dark family history.
Driving home one rainy night, Cassie Larkin sees a man and woman fighting on the side of the road. After calling 911, she makes a split-second decision that will throw her suburban life into chaos. Against the dispatcher's advice, she gets out of her minivan and confronts the attacker. That's when he turns on her and spits out a chilling ultima­tum: "Let her die, and I'll let you live."
A veterinarian trained to heal, Cassie can't let the woman die. But while she's examining the unconscious victim, the attacker steals her car. Now he has her name. Her address. And he knows about her children. Though they warn her to be careful, the police assure her that the perpetrator won't get near her. Cassie isn't so sure.
The next day—Halloween—her husband disappears while trick-or-treating with their six-year-old daughter. Are these disturbing events a coincidence or the beginning of a horrifying nightmare? Her husband has been growing distant—is it possible he's become involved with another woman? Is Cassie's confrontation with the road-side attacker connected to her husband's disappearance? With these questions swirling in her mind Cassie can trust no one, maybe not even herself. The only thing she knows for sure is that she can't sit back while the people she loves are in danger.
As she desperately searches for answers, Cassie discovers that nothing is as random as it seems, and that she is more than willing to fight—to go to the most terrifying extremes—to save her family.
Praise for No Bad Deed: A Novel
"An explosive beginning that quickly spirals into a tense family drama… The brisk plot of No Bad Deed moves with realistic twists as Cassie proves to be a credible sleuth, intent on saving her family… Chavez has a knack for characters… [and] fills her novel with flawed, authentic people." — San Diego Union-Tribune
"A sensational debut - compelling, hypnotic, full of suspense and quiet menace.  Don't miss it!" — Lee Child
"An extraordinary thriller… that may well become the book everyone is talking about…In a mesmerizing first-person narrative, [Cassie's] fear is palpable, then vanquished by an astonishing ferocity she finds within herself. Where does that come from? Wait until you find out. This one glows in the dark." — Booklist (starred review)
"Chavez embarks on a paranoia-fueled thrill ride, escalating the stakes while exploiting readers' darkest domestic fears." — Kirkus Reviews
"[A] propulsive debut… Chavez peoples her tale with credible, flawed individuals, presenting even the multiple antagonists with harrowing backstories and convincing psychological motives… Chavez is in full command of plot and pacing... Domestic thriller fans will be well satisfied." — Publishers Weekly
"A treacherous game of cat and mouse and a frantic race against time until the final explosive twist. Chavez has crafted the perfect thriller." — Liv Constantine, author of The Last Time I Saw You and The Last Mrs. Parrish
"The kind of twisty, jet-fueled thriller that explodes on page one and has you happily abandoning work, sleep, and life as you race to the stunning end. Don't miss it!" — Lisa Gardner
"Heather Chavez's debut novel starts at a sprint and never lets up, twisting its way to an exhilarating, you'll-never-guess-it ending." — Peter Swanson, author of Before She Knew Him
"Chavez's powerfully addictive debut proves nearly impossible to set aside as it describes how one selfless act can breed chaos." — Fredericksburg Free Lance-Star
 "No Bad Deed has as many twists and turns as the winding roads of Sonoma County. For fans of authors like Liv Constantine or Lisa Gardner, this fast-paced book will give you surprises galore against a beautiful backdrop." — CrimeReads.com
"An exciting exploration of what might happen when a person's ordinary life is suddenly thrown into chaos, and knowing whom or what to trust is no longer possible… A delightfully Harlan Coben-esque tale of the ways in which the past can influence the present, for better or much, much worse."
— BookPage
"Chavez is off to a good start with this twisty thriller… With her finely drawn characters—impetuous Cassie with her flaws, good-hearted Sam whom everyone loves, and her really villainous bad guys—and a satisfying ending, No Bad Deed is a worthy read." — Mystery Scene
"Her scrappy female heroine and the breakneck speed in which Chavez unfolds her story make No Bad Deed an exceptional read." — Shelf Awareness
"Twisty, timely and absolutely terrifying, Heather Chavez' No Bad Deed is a propulsive thriller that grabbed me from the very first page and didn't let go. A terrifically suspenseful read."
— Alison Gaylin, Edgar-winning author of Never Look Back
"Chavez's breathless page-turner will have every aspiring Good Samaritan thinking maybe they should let the NEXT guy help." — Linwood Barclay, author of The Noise Downstairs and No Time for Goodbye
"I'm not easily surprised nor do I have a hard time predicting the twists most thrillers pull out… The plot is so very cleverly created so the reader really never has a clue until piece by piece the puzzle is put together…  A rare treat." — Deerfield Valley News
"This book is truly difficult to put down… If you enjoy books that keep you on edge… then No Bad Deed is perfect for you. There are twists, followed by more twists, and plenty of excitement and mystery." — BookReporter.com
"I did not expect the story to take the turns that it did… Definitely a page-turner that would have any lover of suspense and thrillers going mad by the end of the story. A fabulously written story with a juicy plot and some intimidating characters." — Tulsa Book Review
"[A] fast-paced, menacing story… The paranoia is contagious, and Chavez will definitely have you looking over your shoulder. The book, however, is fantastic, with unique characters and nerve-wracking tension!" — TheNerdDaily.com