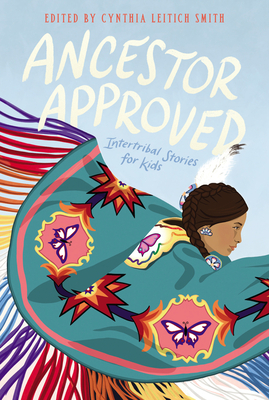 Ancestor Approved: Intertribal Stories for Kids
Publication Date:
February 8th, 2022
Usually Ships in 2 to 14 Days
Reading Ancestor Approved is like being wrapped in a family hug. While telling stories of the many wonderful Native Nations, it demonstrates the important role family plays. Through each story runs the beauty, resilience, and kindness of Native culture. Each author shares a story that honors their background and gives a glimpse into the wonderful world of the powwow. This book is a fabulous way to introduce children to our Native Nations and the wonders of the powwow. A must-read for 2021.
Spring 2021 Kids Indie Next List
Description
Edited by award-winning and bestselling author Cynthia Leitich Smith, this collection of intersecting stories by both new and veteran Native writers bursts with hope, joy, resilience, the strength of community, and Native pride.
Native families from Nations across the continent gather at the Dance for Mother Earth Powwow in Ann Arbor, Michigan.
In a high school gym full of color and song, people dance, sell beadwork and books, and celebrate friendship and heritage. Young protagonists will meet relatives from faraway, mysterious strangers, and sometimes one another (plus one scrappy rez dog).
They are the heroes of their own stories.
Featuring stories and poems by:
Joseph Bruchac
Art Coulson
Christine Day
Eric Gansworth
Carole Lindstrom
Dawn Quigley
Rebecca Roanhorse
David A. Robertson
Andrea L. Rogers
Kim Rogers
Cynthia Leitich Smith
Monique Gray Smith
Traci Sorell,
Tim Tingle
Erika T. Wurth
Brian Young
In partnership with We Need Diverse Books
Praise for Ancestor Approved: Intertribal Stories for Kids
"This uplifting assembly affirms the vitality of Indigenous life today and offers accessible situations and characters to all young readers." — Shelf Awareness
"The entries tell of the personal struggles, family joy, belief systems, and stunning regalia of various nations, including the Cree, Ojibwe, Choctaw, Cherokee, Navajo, Abenaki, and Haudenosaunee, through the eyes of the young protagonists. Enrollment issues, Indian wannabes, and veterans' histories are just a few of the serious themes addressed in these entertaining stories written by familiar and lesser-known writers alike. Senses of goodwill and humor pervade the book as well as the spirit of community, intersection, resilience, and a desire to remember the past... A joyful invitation to celebrate the circle of ancestors together." — Kirkus Reviews (starred review)
"With exceptionally strong writing throughout, and appended with glossary, author notes, and acknowledgements, this makes an appealing choice for those just learning about contemporary Indigenous life as well as readers well versed with the powwow circuit." — Booklist (starred review)
"A wonderful introduction to the included authors' work and a persuasive encouragement to seek out more Indigenous stories." — Publishers Weekly (starred review)
"A thoughtful and sometimes funny celebration of a celebration, and whether kids are veteran powwow-goers or new to the experience, they'll long for the convivial warmth of the festivities." — Bulletin of the Center for Children's Books
"This anthology offers readers a variety of images of Native children while also introducing them to vocabulary from several different Indigenous languages, compiled in an appended glossary. According to Rogers's poem: "A powwow is / friends and family / …a way to remember those / who've passed on / …a place for belly-laughing / …healing / and soul-soothing," and this volume reflects all of those elements and more." — Horn Book Magazine