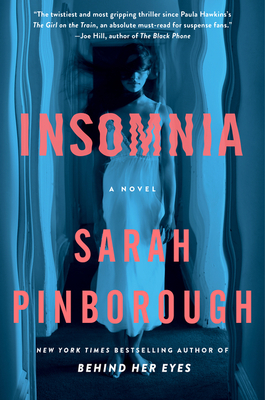 Insomnia: A Novel
Publication Date:
April 12th, 2022
Publisher:
William Morrow
The Book Tavern
2 on hand, as of Dec 9 11:18pm
(Fiction)
On Our Shelves Now
Description
Named One of the Best Thrillers by the Washington Post
"Possibly my favorite of Pinborough's yet, and that's saying something. It's an absolute rollercoaster of a ride: twist upon twist, expertly handled. I actually gasped out loud several times. So atmospheric and sexy… A triumph!" — Lucy Foley, New York Times bestselling author, on Dead to Her
In this mind-bending thriller from the bestselling author of Behind Her Eyes, Emma Averell worries that her sudden insomnia is a sign that she's slowly going insane—like the mother she's worked so hard to leave in her past, soon to be a series on Paramount+
In the dead of night, madness lies...
Emma Averell loves her life—her high-powered legal career, her two beautiful children, and her wonderful stay-at-home husband—but it wasn't always so perfect. When she was just five years old, Emma and her older sister went into foster care because of a deeply disturbing incident with their mother. Her sister can remember a time when their mother was loving and "normal," but Emma can only remember her as one thing—a monster.
And that monster emerged right around their mother's fortieth birthday, the same milestone Emma is approaching now.
Emma desperately wants to keep her childhood trauma in the past, but as she stops being able to sleep, she also can't stop thinking about what happened all those years ago. Is the madness in her blood? Could she end up hurting her family in her foggy, half-awake state, just like her mother? Or is there another explanation for the strange things that keep happening around her? Emma must unravel the dark strands of her past to protect the people she loves… or risk losing it all, including her sanity.
Unsettling and utterly addicting, Insomnia is a heart-pounding thriller that will have you up all night.
Praise for Insomnia: A Novel
"Even a small dose of Insomnia… will likely give you a bad case of the jitters… It's a nimble suspense story, but it's even more disturbing as an account of how a restless brain can weaken and lethally doubt itself." — Washington Post
"Pinborough specializes in steamy mysteries… cooked up in the outer reaches of her imagination… 'What could go wrong?' a character asks cheerfully at the end. Maybe it's the equivalent of the hand emerging from the grave at the end of the movie 'Carrie'. Or maybe not." — New York Times Book Review
"As [Emma] struggles with intergenerational trauma and balancing her work life with her family life, her situation spirals into a dangerous and daunting tale… Insomnia is a natural follow up to [Pinborough's] bestselling thriller Behind Her Eyes." — Entertainment Weekly
"When you look up the word 'gripping' in the dictionary, you see a few pages of Sarah Pinborough's Insomnia. I loved this book. I felt like I was on a treadmill hell-bent on making my heart race." — Caroline Kepnes, New York Times bestselling author of You and Hidden Bodies
"Another mind-twisting, genre-bending rollercoaster from Queen of WTF Sarah Pinborough." — Ruth Ware
"Put this book on your radar: Sarah Pinborough's Insomnia is the twistiest and most gripping thriller since Paula Hawkins' The Girl on the Train, an absolute must-read for suspense fans. The pages fly and the revelations deliver shock after shock. Don't sleep on this one– it's Sarah Pinborough's best yet." — Joe Hill
"If you loved Behind Her Eyes, prepare to be totally and utterly blown away by Insomnia. Sarah Pinborough is a twisted genius." — Lisa Jewell
"Creepy as all get out – a gaslighting masterclass." — Ian Rankin on Insomnia
"Sarah Pinborough is the master of the unexpected and Insomnia does not disappoint. This terrifying thriller about a family under threat from within is a total page-turner." — Gilly Macmillan
"Absolutely brilliant, completely unputdownable and so satisfying – Pinborough just gets better and better" — Jenny Colgan
"A whip-smart, page turning triumph." — Jane Shemilt, author of The Daughter on Insomnia
"Oh. My. Word. Sarah Pinborough is the queen of the impossible, and her latest heart-pounding thriller will have you up all night." — Clare Mackintosh, author of Hostage on Insomnia
"The inimitable Sarah Pinborough reaches new heights of ingenuity in Insomnia, the definition of up-all-night reading" — Erin Kelly, Sunday Times bestselling author of He Said/She Said on Insomnia
"Another clever, original and highly addictive book from the brilliant Sarah Pinborough. Insomnia will keep you up all night. You won't be able to sleep until you've read it. — Alice Feeney, author of Rock Paper Scissors
"What an absolute cracker of a thriller. Just when you think it's safe to carry on reading WHAM! Pinborough throws in another hand grenade…. Thank you for freaking me out in such a beautiful way! So, so clever and I was changing my mind left right and centre, right to the end! Absolutely bloody brilliant." — Joanna Cannon, author of The Trouble with Goats and Sheep on Insomnia
"Insomnia successfully combines domestic suspense with a psychological thriller.... Pinborough's skill at showing characters at their best and worst is a mainstay of her some 20 novels." — Florida Sun-Sentinel
"Gripping… As she strives to figure out who's trying to destroy her and why, the suspense becomes almost unbearable." — Publishers Weekly on Insomnia
"Pinborough [is a] uniquely twisted genius… Emma has given a few women reason to dislike her, but there is a spooky factor involved here that leads her to think this is something that has been on the way for quite a while. A real mind-twister guaranteed to please."  — Booklist on Insomnia
"A book that'll keep you guessing with quite the unreliable narrator... Pinborough ratchets up feelings of dread and a kind of claustrophobia… This is a page turner with an ending you probably won't see coming." — BookRiot.com
"Insomnia is filled with shocking twists and turns." — Novel Suspects
"Possibly my favorite of Pinborough's yet, and that's saying something. It's an absolute rollercoaster of a ride: twist upon twist, expertly handled. I actually gasped out loud several times. So atmospheric and sexy… A triumph!" — Lucy Foley, New York Times bestselling author, on Dead to Her
"Insomnia is an 'unreliable narrator' thriller done right—Pinborough expertly draws readers into Emma's increasingly terrifying world, where no one and nothing can be trusted.... One of the most downright entertaining thrillers I've read in ages." — Crime by the Book
"Big Little Lies meets Rebecca in Sarah Pinborough's Dead to Her, a saucy novel about insecure second wives dragged down by secrets [and] jealousies… This may not be the most important novel you'll read this year, but it's definitely among the most delicious." — Washington Post
"The prolifically ingenious Sarah Pinborough, whose Behind Her Eyes chronicled a deranged love triangle with a rationality-defying last-minute surprise, has produced another twisty book about tricky characters behaving badly… There are shades of Rebecca and Body Heat." — New York Times Book Review on Dead to Her
"Illicit love affairs, [and] tension as stifling as the Georgia summer heat… With Dead to Her, Pinborough plants her flag as the master of seductively sinister suspense. This absorbing tale will satisfy and even surprise fans of Jennifer McMahon and Gillian Flynn." — Booklist (starred review)
"Roils with passion, rancor, and greed wrapped in Southern politesse... Pinbrough's intricately woven mystery will please fans of B.A. Paris and Paula Hawkins." — Publishers Weekly on Dead to Her
"Within minutes of opening Dead to Her you will be unsettled, charmed, riled, empowered, and aroused. Pinborough at the height of her powers." — Josh Malerman, bestselling author of Bird Box
"Dead to Her is set amid Savannah's elite: a lusty, greedy, exclusive society of old money where secrets are buried deep. Sarah Pinborough is always ahead of her reader, expertly weaving her killer plot. Thrilling, sexy and utterly unputdownable."  — Beverly Vincent, Co-Editor (with Stephen King) of Flight or Fright
"The plotting in Cross Her Heart is calm, cool and beautifully orchestrated—until, WHAM, you marvel at what Pinborough has just tossed in your lap. There are plenty of I-can't-believe-she-just-did-that moments that will have you sitting straight up in your chair. What a terrific ride." — Meg Gardiner, author of Unsub
"The amazing Sarah Pinborough has done it again with this brilliant, pacy story of lies and deceit." — B.A. Paris on Cross Her Heart
"Swift and entertaining… When Pinborough unveils her first surprise about a third of the way in, it's a good one… Cross Her Heart has a welcome sisterhood-is-powerful vibe; it's a novel that defines women by their relationships with one another, even as their creator is ruthlessly shoving them into position for the next twist." — New York Times Book Review
"As the narrative weaves among these three… characters, readers are pulled deeper into their connected webs of secrets and lies… Fans of Pinborough's smash debut, Behind Her Eyes, won't be disappointed… [This is] a fast-paced, twisty thriller... Devotees of B.A. Paris and Ruth Ware will be fascinated." — Library Journal (starred review) on Cross Her Heart
"You should read Behind Her Eyes…It's bloody brilliant."  — Stephen King
"Behind Her Eyes is a dark, electrifying page-turner with a corker of an ending. Sarah Pinborough is about to become your new obsession." — Harlan Coben
"Behind Her Eyes is a cunning puzzle-box of a novel, a masterfully engineered thriller that brings to mind Hitchcock at his most uncanny, and Rendell at her most relentless. Lean and mean, dark and disturbing, this is the kind of novel that takes over your life. Sarah Pinborough slays."  — Joe Hill
"Pinborough writes like an absolute dream about an absolute nightmare. I loved it!' — Richard Osman, author of The Man Who Died Twice