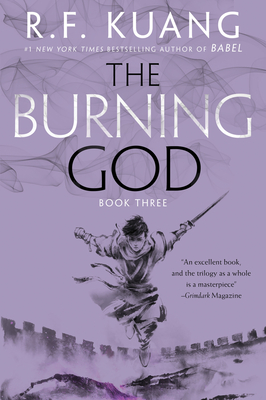 The Burning God (The Poppy War #3)
Publication Date:
November 16th, 2021
Publisher:
Harper Voyager
The Book Tavern
1 on hand, as of Dec 9 11:18pm
(SciFi/Fantasy)
On Our Shelves Now
I knew I was going to be blown away by this book, but I had no idea I was going to be sent into the stratosphere. The Poppy War was already a phenomenal debut, but its successors somehow managed to claw themselves to new heights. The Burning God is no exception. As usual, Kuang holds no punches when it comes to describing the raw horror and consequences of war, drawing her characters to impossibly dark corners where their only escape is through catastrophic decisions. The ending ripped my heart from my chest, but I can't imagine a more satisfying conclusion for this phenomenal trilogy. A perfect triad of books.
December 2020 Indie Next List
Description
The exciting end to the Poppy War trilogy, R. F. Kuang's acclaimed, award-winning epic fantasy that combines the history of twentieth-century China with a gripping world of gods and monsters, to devastating, enthralling effect.
After saving her nation of Nikan from foreign invaders and battling the evil Empress Su Daji in a brutal civil war, Fang Runin was betrayed by allies and left for dead.
Despite her losses, Rin hasn't given up on those for whom she has sacrificed so much—the people of the southern provinces and especially Tikany, the village that is her home. Returning to her roots, Rin meets difficult challenges—and unexpected opportunities. While her new allies in the Southern Coalition leadership are sly and untrustworthy, Rin quickly realizes that the real power in Nikan lies with the millions of common people who thirst for vengeance and revere her as a goddess of salvation.
Backed by the masses and her Southern Army, Rin will use every weapon to defeat the Dragon Republic, the colonizing Hesperians, and all who threaten the shamanic arts and their practitioners. As her power and influence grows, though, will she be strong enough to resist the Phoenix's intoxicating voice urging her to burn the world and everything in it? 
Praise for The Burning God (The Poppy War #3)
"Kuang has crafted a story that is truly epic in nature, making this trilogy one of the best epic fantasies of the past decade." — Tor.com
"Bringing her complex Poppy War trilogy to a poignant conclusion, Kuang shines a searing light on the devastating price and valiant sacrifices that warfare requires of all involved." — Booklist (starred review)
"An incredible end to this epic trilogy. Mixing historical parallels of Chinese history, the themes of war, politics, and colonialism are balanced with terrific, flawed characters and amazing worldbuilding." — Library Journal (starred review)
"The Burning God is an excellent book, and the trilogy as a whole is a masterpiece. Decades from now, I'm sure that R.F. Kuang's Poppy War trilogy will prove to be one of the most influential fantasy series of the modern era." — Grimdark Magazine
"A dark and devastating conclusion that transcends its roots in historical fact to examine brutal truths." — Kirkus Reviews (starred review)
"The Burning God is a triumph....It is a spectacular work—perhaps my favourite release of 2020." — Fantasy Hive
"Kuang's Poppy War series, the saga of a young shaman fighting to bring the old gods back to her homeland, comes to a striking close in this gritty finale."  — Publishers Weekly
"A wholly unique experience." — Washington Post on The Poppy War
"It feels nostalgic, wistful even … The Burning God is the best-written book of the trilogy … This place and this protagonist are singular in fantasy literature." — Book Marks