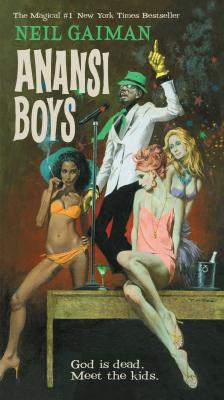 Anansi Boys
Publication Date:
October 25th, 2016
Publisher:
William Morrow Paperbacks
The Book Tavern
1 on hand, as of Sep 28 2:21pm
(SciFi/Fantasy)
On Our Shelves Now
Description
In this #1 New York Times bestseller, Neil Gaiman returns to the territory of his masterpiece, American Gods, to once again probe the dark recesses of the soul.
God is dead. Meet the kids.
Fat Charlie Nancy's normal life ended the moment his father dropped dead on a Florida karaoke stage. Charlie didn't know his dad was a god. And he never knew he had a brother. Now brother Spider is on his doorstep—about to make Fat Charlie's life more interesting . . . and a lot more dangerous.
"Thrilling, spooky, and wondrous."—Denver Post
"Awesomely inventive.… When you take the free-fall plunge into a Neil Gaiman book, anything can happen and anything invariably does."—Entertainment Weekly
"Delightful, funny and affecting.... A tall tale to end all tall tales."—Washington Post Book World
Praise for Anansi Boys
"Deliciously compulsive . . . Grade: A." — Washington Post
"Ebullient . . . The Gaiman faithful will devour it gratefully." — Sacramento Bee
"Somehow manages to be both really scary and really funny at the same time." — Newsweek
"Witty and engaging." — Minneapolis Star Tribune
"The most accomplished of Gaiman's novels . . . Urbane and sophisticated." — Time Out London
"A clever, quick-witted book." — Oklahoma City Oklahoman
"A remarkably funny book." — Toronto Star
"A madcap, screwball world that is partly absurd, occassionally humane and always entertaining." — Pittsburgh Tribune
"Genre-busting . . . very creative and very funny. Grade: A-" — Christian Science Monitor
"An off-kilter blend of reality and fantasy." — Atlanta Journal-Constitution
"A droll comedy of manners with elements of mystery, thriller and romance thrown in . . . Charming." — Vancouver Sun
"Gaiman hardwires his comedy of misrule with a crackpot energy that, when successfully channelled, lights up the imagination." — Sunday Times (London)
"A thoughtful, atmospheric novel." — London Times
"Ebullient . . . ingenious . . . enormously entertaining throughout." — Kirkus Reviews (starred review)
"Another lovely story as only Gaiman can tell it; necessary and recommended." — Library Journal
"[Gaiman is] the folksy, witty, foolishly wise narrator to perfection." — Booklist (starred review)
"Funny and subversive . . . Gaiman's mastery of language carries the reader through to a satisfying conclusion." — USA Today
"Delightful, funny and affecting . . . the literary equivalent of a hole in one." — Washington Post Book World
"Readers who enjoyed American Gods . . . will fall madly in love with ANANSI BOYS." — St. Louis Post-Dispatch
"Gaiman at his best." — Rocky Mountain News
"A welterweight boxer of a book -- light on its feet, but capable of delivering a punch." — Atlanta Journal-Constitution
"ANANSI BOYS makes an incredible read." — Times Leader
"[Gaiman] gives his flair for comedy free rein without losing his appreciation for the darker aspects of world mythology." — San Francisco Chronicle
"A very accomplished comic novel." — Daily Telegraph (London)
"A hybrid of folk tale and farce that freely partakes of the comic wealth in each." — Salon.com
"Another great work from Neil Gaiman." — Toronto Star
"Darkly funny and heartwarming to the end, this book is an addictive read not easily forgotten." — School Library Journal