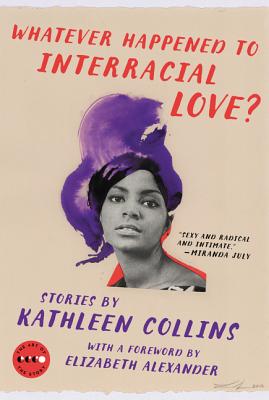 Whatever Happened to Interracial Love?: Stories
Publication Date:
December 6th, 2016
The Book Tavern
1 on hand, as of Dec 7 11:18pm
(Fiction::African-American )
On Our Shelves Now
Description
"From the first page you know you're in the hands of an exceptional writer… I adored this book." —Zadie Smith
"Sexy and radical and intimate." —Miranda July
Named a Best Book of 2016 by VICE, Elle, Nylon, Publishers Weekly and NPR
Named one of the most anticipated books of the fall by the Huffington Post, New York, The Boston Globe, Lit Hub, and The Millions
Now available in Ecco's Art of the Story series: a never-before-published collection of stories from a brilliant yet little known African American artist and filmmaker—a contemporary of revered writers including Toni Cade Bambara, Laurie Colwin, Ann Beattie, Amy Hempel, and Grace Paley—whose prescient work has recently resurfaced to wide acclaim.
Humorous, poignant, perceptive, and full of grace, Kathleen Collins's stories masterfully blend the quotidian and the profound in a personal, intimate way, exploring deep, far-reaching issues—race, gender, family, and sexuality—that shape the ordinary moments in our lives.
In "The Uncle," a young girl who idolizes her handsome uncle and his beautiful wife makes a haunting discovery about their lives. In "Only Once," a woman reminisces about her charming daredevil of a lover and his ultimate—and final—act of foolishness. Collins's work seamlessly integrates the African-American experience in her characters' lives, creating rich, devastatingly familiar, full-bodied men, women, and children who transcend the symbolic, penetrating both the reader's head and heart.
Both contemporary and timeless, Whatever Happened to Interracial Love? is a major addition to the literary canon, and is sure to earn Kathleen Collins the widespread recognition she is long overdue.
Praise for Whatever Happened to Interracial Love?: Stories
"From the first page you know you're in the hands of an exceptional writer... Collins' stories are passionate and light-footed, angry but also delicate - they move like quicksilver... She's deliciously funny. She speaks of the many-sided lives of black women with care and intelligence. I adored this book." — Zadie Smith, author of Swing Time
"Sexy and radical and intimate." — Miranda July, author of The First Bad Man
"Sharp, tender, and precise--full of wit and pleasure. Reading [Collins] feels likes eavesdropping on an electric historical moment from a secret perch just above the kitchen table. I lost myself in these stories with a sense of wrestling and delight, grateful for the crackles and surprises they continually delivered." — Leslie Jamison, author of The Empathy Exams
"These stories offer a sharp, clear, unsentimental vision of race in the sixties, the mingling of politics and desire, the search for place that will be both exotic and familiar to modern readers, richly historical and utterly recognizable." — Katie Roiphe
"[A] lost treasure... this jewel of a book illuminates big timeless themes of familial ties and self-determination, group affinity and individualism, lovers and the power plays between them in a way that feels completely new.". — American Publishers Association
"A posthumous masterpiece. . . . A triumph." — O, the Oprah Magazine
"In this slim, devastating collection, Kathleen Collins writes of interracial America like no one before or since. This is a daringly complex vision of both blackness and whiteness by a writer who was utterly ahead of her time." — Danzy Senna, author of Caucasia
Kathleen Collins writes with an immediacy and vividness that is exhilarating to read. She inhabits a landscape that sidesteps political or sexual correctness in favor of emotional truth-telling...Throughout it all there is a brio that is contagious. — Daphne Merkin
"Kathleen Collins has the dramatist's gift for multiple voices and viewpoints...How well she understands mixed motives, emotions and bloodlines. Histories and legacies at cross-purposes. Elective and compulsive affinities, both intellectual and erotic. How unlucky we were to lose her. And how lucky we are to have these stories." — Margo Jefferson, author of Negroland
"This book is one of the most eloquent statements I have read of what it was like to be black and young and alive in the 1960s. I applaud its publication." — Vivian Gornick, author of The Odd Woman and the City
"The best of these stories are a revelation. Ms. Collins had a gift for illuminating what the critic Albert Murray called the "black intramural class struggle," and two or three of her stories are so sensitive and sharp and political and sexy I suspect they will be widely anthologized." — Dwight Garner, New York Times
"It is a delightful literary discovery that the creator of the landmark film, 'Losing Ground,' also turned her hand to fiction. The stories collected here are witty and revealing, and together constitute an unearthed gem of black women's fiction." — Henry Louis Gates, Jr., author of And Still I Rise
"Collins can work wonders with a single line...[her] voice is so original...The best reason to read this book is simply that it is fantastic: original, provocative, revelatory and bursting with life." — Los Angeles Times
"A multidimensional revelation... Delves deep into modern history and personal experience to yield, in calm yet prismatic phrases, urgent and deeply affecting insights into her times, which echo disturbingly today... Collins's style is fine, graceful, and reserved, but pierced with the harsh simplicity of lurking menace." — New Yorker
"Collins was a contemporary of Alice Walker and Jamaica Kincaid, and we should make room for her in the literary canon; Whatever Happened to Interracial Love? is evidence that this space would be much deserved." — New York Times Book Review
"Each of Collins' stories leaves the reader wanting to know more about the characters and their creator, which makes this an intriguing and bittersweet publication of these stories long awaiting the attention they deserve." — Booklist
"Her tableaux and vignettes take place decades in the past, yet the question of the title story seems more relevant than ever... [A] impressionistic, psychologically observant collection...In poignant, searching scenes and contemplations, readers will be reintroduced to a great and under-appreciated creative talent." — Huffington Post
"Make[s] you ache with the powerfully felt sense of real people who value racial parity and collaboration, the aims of art and the necessity of commerce, fearless conversation and creative isolation…Sensuous and immediate, the 16 slim, elliptical stories are built upon elegantly captured moments…hum[s] with far-seeing energy." — Elle
"Fresh and energetic." — Harper's Magazine
"[An] astonishing posthumous collection of stories from an underappreciated author… While these are stories about the African-American experience in the 1960s, their perspective on complex subjects in American makes them as relevant today as they were then." — Marie Claire
"[A] gorgeous and strikingly intimate short story collection… Collins' prose is so precise and hypnotic that no amount of rereading it feels like enough. Astonishing and essential. A gem." — Kirkus Reviews (starred review)
"For literary tastemakers, the superb stories in the late filmmaker Kathleen Collins's Whatever Happened to Interracial Love?, published for the first time, feel fiercely of the moment." — Vogue
"Race, gender, love, and sexuality are portrayed beautifully and humanely… Full of candor, humor, and poise, this collection, so long undiscovered, will finally find the readers it deserves." — Publishers Weekly (starred review)
"A powerful collection… Collins' stories are frank and elegant time capsules from the past that will speak with urgency and beauty to readers of today." — Dallas Morning News
"[Explores] the brutal battlefield of uneven relationships, the joys and paradoxes of black identity, the eternal struggle between mind and body...This is the magic of Collins's voice: the firm belief that even the most private of metamorphoses sends out ripple effects far into the real world." — Village Voice
"These vivid stories revisit the tumultuous '60s through the lives of black and white people as they connect, break apart and struggle to make sense of their identities. Collins died in 1988, but her modern voice reminds us how little the dilemmas and heartache of interracial America have changed." — People
"The late writer's newly unearthed work covers race, gender, family, and sexuality in a series of intimate stories gracefully stitched together to explore the African American experience." — Entertainment Weekly
"Collins' writing is powerful and poignant, and she offers readers an essential look into issues like race, gender, and sexuality." — Nylon Magazine
"The collection offers a stimulating glimpse at a roller-coaster era for civil rights. They take place where activism and love intersect...Collins's writing has much in common with Grace Paley's wry vignettes of New York intellectuals. Her voice is sharp and sophisticated but leavened by vulnerability and self-deprecation." — Wall Street Journal
"Fiercely honest and refreshingly candid." — In Style
"The writing is practically visceral; straightforward and crisp, leaving you wanting more and thinking about what you just read." — Book Riot
"Each one of these stories will take you somewhere deep and familiar, the kind of writing that makes the world around you fade away." — Bustle
"This previously unpublished collection of her stories will have many readers wishing they'd seen her work before... Acute and lucidly rendered... With a quick but searing touch of the brush, Collins crosses racial, gender, and generational divides, and her readers will, too." — Library Journal
"This previously unpublished collection of her stories will have many readers wishing they'd seen her work before. Offered here are acute and lucidly rendered narratives ... With a quick but searing touch of the brush, Collins crosses racial, gender, and generational divides, and her readers will, too." — Library Journal
"These stories fill a gap in the literature, whether or not you knew a gap was there, and they speak to the present like a sharp-eyed worldly aunt who has seen it all before." — Shelf Awareness
"[Collins'] stories are intense meditations on love, heartbreak, youthful ennui, gender, and race...The stories in this collection are often conversational and candid, as though the reader has been invited to have a chat with the narrator...There are shades in the intimacy and urgency of Collins' writing of Lorraine Hansberry and Zora Neale Hurston...Sharp and lovely...Collins' work will certainly be canonized now, but what a shame that didn't happen earlier." — Slate