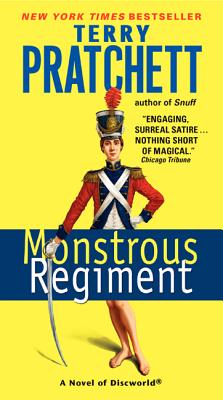 Monstrous Regiment: A Novel of Discworld
Publication Date:
July 29th, 2014
The Book Tavern
1 on hand, as of Dec 11 11:18am
(SciFi/Fantasy)
On Our Shelves Now
Description
"Wickedly satirical . . . nothing short of brilliant."  — Publishers Weekly (starred review)
The 31st entry in Sir Terry Pratchett's internationally bestselling Discworld series about the art of war and the brave women who wage it.
War has come to Discworld. The homes and businesses throughout the duchy of Borogravia limp along, doing the best they can without their men, sent to fight their age-old enemy. Polly has taken over the lion's share of responsibility for the running of her family's humble inn, The Duchess. Her beloved brother Paul marched off to war almost a year ago, but it has been more than two months since his last letter home, and the news from the front is bad: the fighting has reached the border, supplies are dwindling, and the brave Borogravians are losing precious ground. So the resourceful Polly cuts off her hair and joins the army as a young man named Oliver. As Polly closely guards her secret, she notices that her fellow recruits seem to be guarding secrets of their own.
A novel that explores the inanity of war, the ins and outs of sexual politics, and why often the best man for the job is a woman, Monstrous Regiment is vintage Pratchett in top form.
The Discworld novels can be read in any order but Monstrous Regiment is a standalone.
Praise for Monstrous Regiment: A Novel of Discworld
"Mate gender politics with geopolitics and you get either a PC nightmare or something very funny. Fortunately, in MONSTROUS REGIMENT it's the latter. Pratchett takes full and unfairly hilarious advantage of the opportunity to skewer everything from miliary court martials to male swagger." — Washington Post Book World
"As ever, Pratchett revels in pricking pomp and assurance, but it isn't going too far to say that of late his real subject, like Wilfred Owen's, is the pity of war. . . he can move from farce to sadness in seconds . . . MONSTROUS REGIMENT is most often spirited and shambolic, but it has some serious heft. Pratchett is on the side of those who make very little fuss, which means he gets to shiv those who do." — New York Times Book Review
"Hilarious . . . wickedly satirical . . . nothing short of brilliant." — Publishers Weekly (starred review)
"Surprisingly meaningful but never short of hilarious: a monstrous success for Pratchett." — Kirkus Reviews
"Extraordinarily amusing . . . Pratchet has outdone himself with MONSTROUS REGIMENT—a feat that might be hard to imagine after so many books. It is fresh, witty as ever, and brings a whole new look to Ankh Morpork." — Bookreporter.com