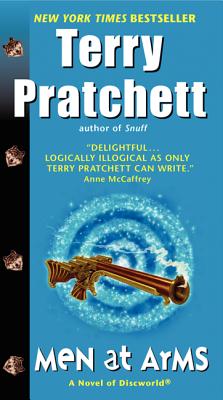 Men at Arms: A Novel of Discworld
Publication Date:
October 29th, 2013
The Book Tavern
1 on hand, as of Dec 8 11:19am
(SciFi/Fantasy)
On Our Shelves Now
Description
"Unadulterated fun."—San Francisco Chronicle
The fate of Ankh-Morpork and the Discworld itself rests on the unlikely shoulders of newly promoted Corporal Carrot and his hapless charges in the City Watch in this wildly wacky Discworld novel from the legendary New York Times bestselling author Terry Pratchett.
Corporal Carrot has been promoted and is now in charge of the new recruits guarding Ankh-Morpork from Barbarian Tribes, Miscellaneous Marauders, unlicensed Thieves, and other dangerous Discworld denizens. It's a big job for an adopted dwarf keeping the likes of young coppers Lance-constable Cuddy (really a dwarf), Lance-constable Detritus (a troll), Lance-constable Angua (a woman) and Corporal Nobbs (disqualified from the human race for shoving) in line.
Especially since someone in Ankh-Morpork has been getting dangerous ideas about crowns and legendary swords, and destiny—which points its crooked finger again when an ancient document reveals that Ankh-Morpork has a secret sovereign . . . and his name is Carrot.
It's the beginning of the most awesome epic encounter of all time (or at least all afternoon), in which the fate of a city—indeed of the universe itself!—depends on a young man's courage, an ancient sword's magic, and a three-legged poodle's bladder.
The Discworld novels can be read in any order but Men at Arms is the 2nd in the City Watch collection and the 15th Discworld book.
The City Watch series in order:
Guards! Guards!
Men at Arms
Feet of Clay
Jingo
The Fifth Elephant
Night Watch
Thud!
Snuff