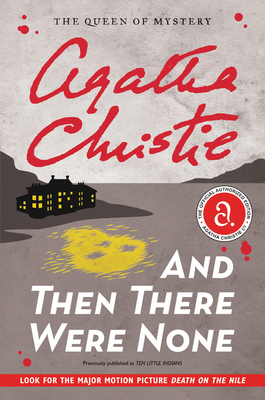 And Then There Were None
Publication Date:
January 18th, 2011
Publisher:
William Morrow Paperbacks
Usually Ships in 2 to 14 Days
Description
"If you're one of the few who haven't experienced the genius of Agatha Christie, this novel is a stellar starting point." — DAVID BALDACCI, #1 New York Times Bestselling Author
An exclusive authorized edition of the most famous and beloved stories from the Queen of Mystery.
Ten people, each with something to hide and something to fear, are invited to an isolated mansion on Indian Island by a host who, surprisingly, fails to appear. On the island they are cut off from everything but each other and the inescapable shadows of their own past lives. One by one, the guests share the darkest secrets of their wicked pasts. And one by one, they die…
Which among them is the killer and will any of them survive?
"Agatha Christie is the gateway drug to crime fiction both for readers and for writers. . . .  Just one book is never enough." — VAL MCDERMID, Internationally Bestselling Author
Praise for And Then There Were None
"The whole thing is utterly impossible and utterly fascinating. It is the most baffling mystery Agatha Christie has ever written." — New York Times
"One of the most ingenious thrillers in many a day." — Time magazine
"One of the very best, most genuinely bewildering Christies." — The Observer (UK)
"There is no cheating; the reader is just bamboozled in a straightforward way from first to last….The most colossal achievement of a colossal career. The book must rank with Mrs. Christie's previous best—on the top notch of detection." — New Statesman (UK)
"The most astonishingly impudent, ingenious and altogether successful mystery story since The Murder of Roger Ackroyd." — Daily Herald (UK)
"What Agatha Christie taught me was all about the delicate placement of the red herring. She was the ultimate genius behind 'by indirections shall we find directions out.' " — Elizabeth George, New York Times bestselling author of the Inspector Lynley novels